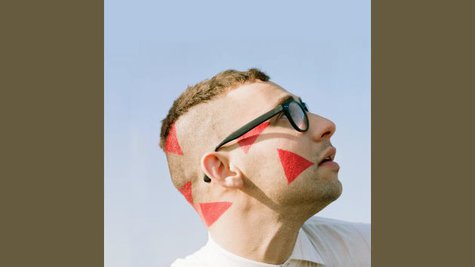 fun. 's Jack Antonoff is getting set to hit the road with his side project Bleachers . Antonoff and a backing band will hit the road starting June 20 at the Firefly Music Festival in Dover, Delaware. The tour concludes October 10 at the ACL Music Festival in Austin, Texas.

The tour comes in support of Bleacher's debut album, Strange Desire , which is available for pre-order now. Those placing a pre-order at iTunes will get an immediate download of the song "Rollercoaster."
The Bleachers album features several high profile collaborators including Grimes, Yoko Ono , and Depeche Mode founding member Vince Clarke , who went on to join two other popular synth-pop groups of the '80s: Yaz and Erasure .
Also available on the Bleachers online store is a " Strange Desire Collector's Vinyl Bundle" which contains an orange vinyl version of the album, a t-shirt, a limited edition print signed by Jack Antonoff and a copy of Strange Desires: The Demos CD .
Here's the track list for Strange Desire :
"Wild Heart"
"Rollercoaster"
"Shadow"
"I Wanna Get Better"
"Wake Me"
"Reckless Love"
"Take Me Away" Ft. Grimes
"Live a River Runs"
"You're Still a Mystery"
"I'm Ready to Move On/Wild Heart Reprise" Ft. Yoko Ono
"Who I Want You to Love"
Here are the Bleachers tour dates:
6/20 -- Firefly Music Festival, Dover, Delaware
6/26 -- Boulevard Pool-Mophie Stage at the Cosmopolitan, Las Vegas, NV
6/27 -- Summerfest, Milwaukee, WI
6/29 -- Glastonbury Festival, Pilton, U.K.
7/6 -- Wireless Festival, U.K.
8/1 -- Osheaga Festival, Montreal, QC
8/2 -- Radio 104.5 Summer Block Party, Philadelphia, PA
8/3 -- Lollapalooza, Chicago, IL
8/3 -- Lollapalooza After-Party @ Lincoln Hall, Chicago, IL
8/8 -- Outside Lands Music Festival, San Francisco, CA
8/9 -- Marymoor Park Concerts, Redmond, WA
8/20 -- Deuxe @ Old National Center, Indianapolis, IN
8/21 -- The Ready Room, St. Louis, MO
8/22 -- Kansas City Power & Light District, Kansas City, MO
8/26 -- St. Andrew Hall, Detroit, MI
8/27 -- Phoenix Concert Theatre, Toronto, ON
8/31 -- Made In America Festival, Philadelphia, PA
9/4 -- Webster Hall, New York, NY
9/6 -- Boston Calling Music Festival, Boston, MA
10/3 -- ACL Music Festival, Austin, TX
10/10 -- ACL Music Festival, Austin, TX
Follow @ABCNewsRadio Copyright 2014 ABC News Radio