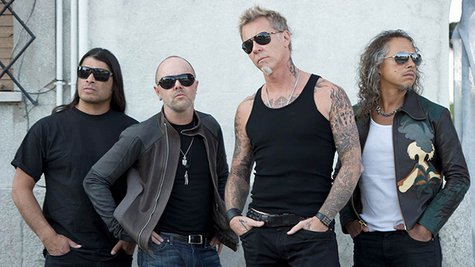 Hard-rock haters be damned, says Metallica . Drummer Lars Ulrich says he and his band are "not nervous" to headline this year's Glastonbury Festival, despite a petition by protesters to ban Metallica from playing.
In an interview with Metal Hammer , Ulrich says, "I don't know how serious I can take [the petition]. I don't sit glued to the iPad following [everyone] who has an opinion about Metallica...I guess it's fun that you can still make some waves, without doing anything other than saying yes to an invitation to a festival. So, happy days!"
As previously reported, the petition was begun by animal rights activists upset that Metallica frontman James Hetfield will narrate The Hunt , the History Channel miniseries about a group of hunters who journey to Alaska in search of the Kodiak brown bear. As previously reported, Hetfield himself has hunted bear, though he hasn't done so in years.
The group launched a Facebook page called Remove Metallica from Glastonbury Festival for their Support of Bear Hunting . An anonymous spokesperson for the group tells NME.com , "This is not hunting for the table, for food or survival… The Kodiak Bear Hunt is done using 'traditional' methods [that] rarely result in a 'clean kill' as you would get from a high velocity hunting rifle. Often the animal is wounded and is put through a great deal of pain."
The spokesperson adds, "This is not particularly against Metallica; I would do the same if any other band found itself in the same position… Much as I applaud the work that James and the other members of the band have done in other causes, this does not let them off the hook in this case."
The Facebook page has tens of thousands of signatures, but doesn't seem to be making any headway in having the band removed from the bill. Metallica is booked to headline the festival, which takes place on June 26-28, along with Kasabian and Arcade Fire .
Follow @ABCNewsRadio
Copyright 2014 ABC News Radio