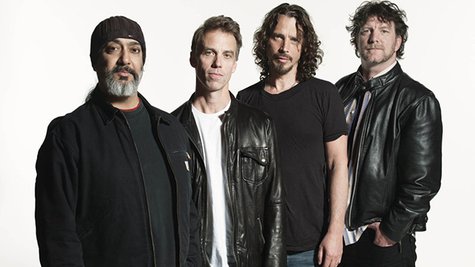 What better way to celebrate the re-release of Soundgarden 's Superunknown than to reveal some super-unknown facts about it? Rolling Stone has published five little-known facts about the album, gleaned directly from the band members.
First up, Chris Cornell says that the title Superunknown was taken from the name of a clown who had been featured on Seattle TV when he was a kid. Cornell says that when he woke up from a hangover, he looked at the VHS tape of the show he still had and thought that the name "Superklown" was "Superunknown," and the confusion "gave rise to creative ideas."
Cornell also gives credit for "Spoonman,"or at least for the song's first appearance on a tape, to Jeff Ament . Cornell says that the Pearl Jam bass player was asked to make a mock tape cover prop to use in the movie Singles , and Cornell thought the finished product was so cool-looking he made one straightaway for "Spoonman."
Speaking of "Spoonman," drummer Matt Cameron says that Artis -- the local Seattle performance artist the song is named for -- whacked himself in the face so hard with his utensils during the filming of the song's video that he cuts himself. "He was quite the performance artist," says Cameron.
Spoons weren't the only non-standard equipment used on the album. Cameron and Cornell agree that While listening to the original tapes to put together the Superunknown anniversary package, Cameron and Cornell say they were reminded of some of the wacky percussion props they used, including olive oil cans and biscuit tins.
Lastly, "Mailman" was included to pay homage to "some sort of a person who is in a sense powerless and isolated and forgotten by society, that then becomes this ferocious force to be reckoned with."
You can check out other behind-the-scenes details at RollingStone.com .
The anniversary edition of Superunknown is available now, in standard and deluxe vinyl formats.
Follow @ABCNewsRadio Copyright 2014 ABC News Radio