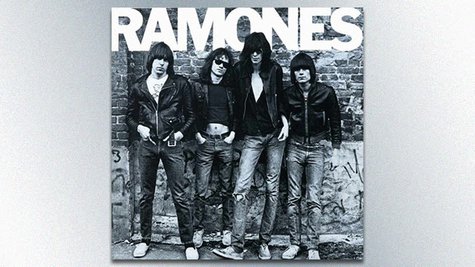 It's taken so long for the Ramones ' self-titled debut album to be certified gold, you could say it's also certified "old."
The RIAA officially certified Ramones for sales of 500,000 copies in the U.S. on April 30 -- almost 38 years to the day after the disc was first released on April 23, 1976. Since then, it's been issued a total of 15 times, on six different labels and three formats, and yet still took this long to achieve gold status.
Initially released on Sire Records and boasting 14 tracks that clock in at a hair over 29 minutes total, Ramones was recorded in a week's time for a reported $6,400. Though it wasn't commercially successful at the time, the album since come to be regarded as one of rock's most influential: SPIN magazine placed it at the top of their "50 Most Essential Punk Records" chart . It opens with "Blitzkrieg Bop," one of the Ramones' most recognizable songs, with its' "Ay, oh...let's go!" chorus.
Incidentally, the 1988 Ramones best-of album, Ramones Mania , went gold 20 years ago, certified on June 27, 1994.
Follow @ABCNewsRadio
Copyright 2014 ABC News Radio