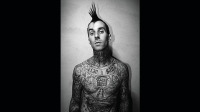 The soundtrack to the movie 22 Jump Street features a song from Travis Barker of Blink-182 . The track is called "Live Forever" and features a guest vocal from rapper Juicy J. Barker tells ABC News Radio he wasn't planning to release the song so soon, or planning on having it show up in the movie.
"I sent a song to Juicy that was for my album, and he hit me a couple of hours later and was like, 'I played this for a couple people and they really want it to be in this movie,'" Barker says. "And I was like, 'Alright. A little quicker than I thought it would show up anywhere, but it was a cool opportunity and it was a rad movie.'"
Having the song in the movie also had the side benefit of helping Baker's children get a better sense of what he does for a living. Barker brought his kids along to the recent premiere for 22 Jump Street. He tells ABC News Radio, "They like going and hearing the songs, 'cause they see Dad working in the studio, [and] they're...going, 'Dad, let's go home,' and I go, 'I gotta finish something,' and then they...listen to it in different stages and then you come to something like this and it's finished, and they know why...so it's cool."
The 22 Jump Street soundtrack is available now -- the movie hits theaters this Friday.
Follow @ABCNewsRadio Copyright 2014 ABC News Radio