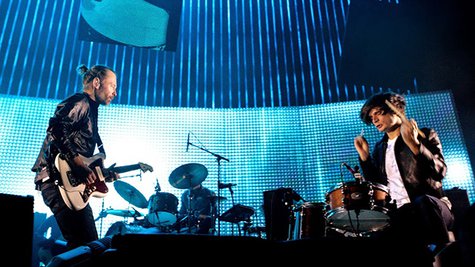 All's still quiet on the Radiohead front, and it turns out that's on purpose. In his blog for U.K. newspaper The Guardian , guitarist Jonny Greenwood remarks on his recent activities "in a year off from Radiohead."
Those activities have most recently included Greenwood playing a short set at Knoxville's Big Ears Festival in March, and rehearsing with the London Contemporary Orchestra for some end-of summer performances of the film score Greenwood did for There Will Be Blood back in 2008, in live performances accompanying the film.
Greenwood's performances in London are on August 6 and 7, and New York City's shows are September 19 and 20. The New York performances will be accompanied by the Wordless Music Orchestra and take place at the United Palace Theater, which boasts the second-largest movie screen in New York City.
Spending time writing and performing classical music has give Greenwood a deeper appreciation of live versus recorded music. "I love the impermanence of the music live: it's played in the room -- which is itself infinitely variable from one concert to another -- and then it's gone, soaked into the walls," he writes. "Unlike recordings, it isn't identical to the previous performance or the next one. It can go slightly (or badly) wrong at any time. And all that is shared equally by everyone in the room."
"When an orchestra starts from silence in a quiet room it's glorious. Or a solitary singer," Greenwood writes. "It doesn't matter how much you spend on your speaker stands, you can't reproduce that in your front room, any more than the National Geographic channel reproduces Madagascar."
The guitarist offers no hints about Radiohead's plans in the piece, but in April, Greenwood told The Nashville Scene that the members of Radiohead are "meeting up at the end of the summer, and we'll make a plan. He warned fans not to to expect anything soon, "We're a slow-moving animal, always have been. I guess we'll decide then what we do next."
Follow @ABCNewsRadio
Copyright 2014 ABC News Radio