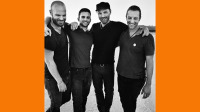 Coldplay is on tour in Australia, and the band is planning a treat for fans not able so see them there, even fans half a world away. On Thursday the band will stream their concert from the Enmore Theatre in Sydney. Fans can catch the stream at coldplayaustralia.com.au , beginning at 8:30 p.m. AEST, which translates to 4:30 a.m. ET or 7:30 a.m. PT.
Meanwhile, the band's security team cleared a street in Sydney, Australia on Monday so the band could shoot the new video for "Sky Full of Stars."
The band took to Twitter the day before, asking fans to come down if they wanted to be in the shoot, which involved the band members walking down a street in Sydney's Newtown district, then stopping to play a short outdoor set. An account on the Sydney Morning Herald 's website noted that the air was full of bubbles from a bubble machine and the "faint waft of marijuana pervad[ed] the general vicinity." The paper also cited "word on the street" that the video would likely appear online very quickly.
Follow @ABCNewsRadio
Copyright 2014 ABC News Radio