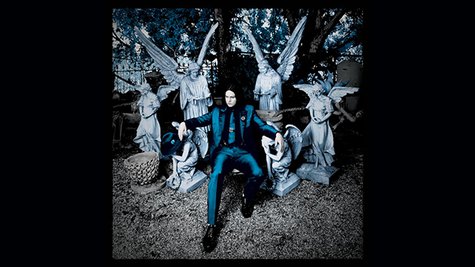 Jack White 's latest album, Lazaretto, has debuted at #1 on the Billboard 200. The collection sold 138,000 copies in CD, digital and vinyl formats, matching almost exactly the sales number of White's last album, Blunderbuss, according to the magazine.
What's even cooler about this new album is that the 12-inch vinyl version of Lazaretto , called the Lazaretto Ultra LP , sold 40,000 copies all by itself, notching the highest one-week sales number for a vinyl record since SoundScan started keeping track of such things back in 1991. That 40,000 units was just a bit short of the CD sales numbers -- 41,000 -- and alone would have qualified Lazaretto for a #4 slot on the sales chart.
The Lazaretto Ultra LP is pressed on 180-gram vinyl and features a variety of special features for vinyl and analog audio enthusiasts. There are so many nifty goodies that White made a video trailer in order to adequately educate the masses.
Among the special features are two vinyl-only hidden tracks beneath the record's center labels, one of which plays at 78 rpm and the other at 45 rpm. The intro to one of the songs, "Just One Drink" uses "dual-groove technology" with an electric or acoustic intro playing depending on where the needle is dropped, with the two grooves meeting for the body of the song. Also, the dead wax on side-A contains a hand-etched hologram by Tristan Duke of Infinity Light Science, the first of its kind on a vinyl record; and the B-side is pressed in a matte finish giving it the appearance of an unplayed 78 rpm record. Oh, and one side plays from the center outward to the edge of the vinyl disc.
In addition, the Ultra LP has a different track order and uses some different mixes from the CD version of the album, and was recorded, mixed and mastered using no compression.
Follow @ABCNewsRadio Copyright 2014 ABC News Radio