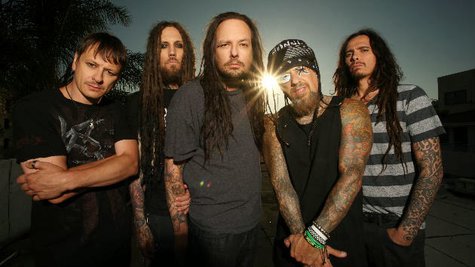 Great news for Korn fans. Billboard reports the band will be releasing new tracks and live performance material in an expanded edition of its latest album, The Paradigm Shift , this summer.

The release will include the new single, "Hater," which will go on sale June 23.

"Everyone has someone who hates on you because you have something they want," Korn frontman Jonathan Davis tells Billboard . He describes the single as being "the first empowering song" he's ever written.

The lyrics include the lines, "You can't bring me down/I've already had my life turned upside down/I ride a downward spiral round and round/But I keep flying. I keep fighting/Don't ever bring me down."

Davis says he recorded the single in California then sent it to the other members of the band to add their parts.

The frontman says the expanded album will also include songs that didn't make the final cut, as well as live tracks "from all over the world" and new artwork. The original album was released last October.

Davis says he's also recorded another single about his youngest daughter's battle with Type 1 diabetes. It's titled "So Unfair." "It's kind of me, my dealing with that and it's very personal to me...," Davis explains. He says he'll donate proceeds from "So Unfair" to the Juvenile Diabetes Foundation.
Korn hits the road this summer with the seventh annual Mayhem Festival, beginning July 5 in San Bernardino, California.

Davis tells Billboard he expects the band to get back in the studio in the fall. "We're just really in a good place, creatively," Davis says. "Making [ The Paradigm Shift ] was really fun. We're all in a great place, and doing the shows has just been incredible. So I would like to get back in the studio and start working on a new record as soon as we can."
Follow @ABCNewsRadio Copyright 2014 ABC News Radio