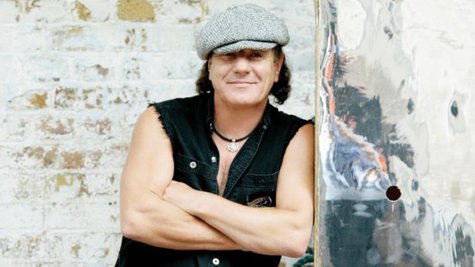 When AC/DC announced last month that founding guitarist Malcolm Young would be taking a break from the group because of health issues, the band also insisted that it would continue to make music. Now, in a new message posted on his website BrianJohnsonRacing.com , singer Brian Johnson appears to be backing up that statement, and at the same time confirming that AC/DC is preparing for a new tour.
In the message, Johnson begins by thanking fans for their support of Cars That Rock , the new U.K. television series he's been hosting.
He then reveals, "We hope to bring you more shows in the near future but, of course, there is the slight distraction of my day job with AC/DC -- and it looks very likely that we will be on the road again before the end of the year. So stand by for more music."
Back in May, Australia's Noise11.com reported that AC/DC members had been spotted in Vancouver, Canada, where it's believed they were working on a new album with producer Brendan O'Brien , who also produced the group's most recent studio effort, 2008's Black Ice . The same article reported that Malcom and Angus Young 's cousin Stevie Young apparently will be filling in for Malcom.
Follow @ABCNewsRadio Copyright 2014 ABC News Radio