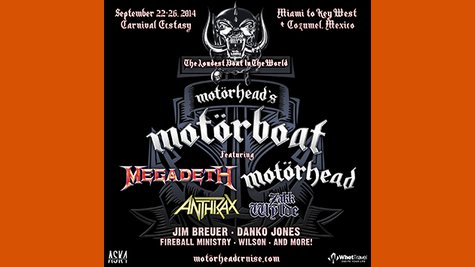 KISS Kruise, step aside -- there's a large barge of metal madness set to take to the high seas. Motörhead has announced the lineup for the MotörBoat cruise, featuring Lemmy Kilmister and company, Megadeth , Anthrax and Zakk Wylde . The bands will create nautical chaos aboard the Carnival Ecstasy, which will leave from Miami on September 22 and float toward Cozumel, Mexico, with a stop in Key West along the way, heading back to port in Miami on September 26.
Promises Lemmy, "This will be everything you've come to expect from a night out with us, except even louder, with more great bands and no way of escaping! If you thought waves could rock a boat, you've got another thing coming with this lovely little outing!"
Tickets for the cruise go on sale March 18, and details about pricing and cabin packages will go live on the Motörboat site, MotorheadCruise.com , later this week.
Copyright 2014 ABC News Radio