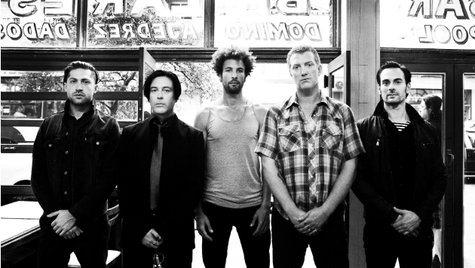 Queens of the Stone Age frontman Josh Homme made headlines over the past couple of months regarding his appearance on the Grammys.
He played the show with Dave Grohl, Nine Inch Nails ' Trent Reznor and Lindsey Buckingham but the plug was pulled on their performan early so producers could show a commercial. Then Homme went on a bit of a rant at a Queens of the Stone Age show -- captured on a fan video posted to YouTube -- saying "Hey, f*** everything. F*** the man. F*** Imagine Dragons and f*** the Grammys."
With legions of QOTSA fans wondering what was up, Homme tells Australian website Fasterlouder.com simply, "I was really drunk."
And furthermore, Homme says he would consider playing at the Grammys again "If they got their sh** together, maybe."
Homme says that fans shouldn't take him -- or anything in rock and roll -- too seriously. "I'm in a band, I go play music wherever I'm supposed to go play," he says. "You can't sweat this other stuff. It's not that big of a deal."
Copyright 2014 ABC News Radio