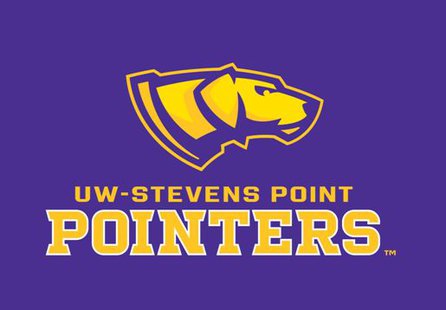 RIPON, WI (WSAU-UWSP ). -
Zach Wendorf
(Merrill, WI/Merrill) and
Tyler Flood
(Madison, WI/La Follette) turned in lengthy scoreless appearances out of the bullpen as the 15th-ranked UW-Stevens Point baseball team swept host Ripon 7-2 and 7-3 on Wednesday afternoon at Francis Field. No. 15 UW-Stevens Point 7, Ripon 2 |
Box
Zach Wendorf
(Merrill, WI/Merrill) pitched five scoreless innings in relief and UW-Stevens Point (24-9) pounded out 14 hits in game one. The Pointers scored three runs in the top of the first to build a lead they never gave up. Wendorf gave up just two hits and struck out four in relief of
Max Frederick
(New London, WI/New London) to pick up his second victory of the season. Frederick allowed two runs over the first four innings. Frederick and Wendorf held Ripon (17-13) to three hits over the final six innings.
Jimmy Coady
(La Crosse, WI/Aquinas) led the Pointers' offense by reaching base in four of his five at-bats, going 3-for-4 with a walk while scoring twice.
Riley Spetz
(Sturgeon Bay, WI/Sevastopol) scored two runs in the game, while
Kyle McHugh
(Polonia, WI/Rosholt) drove in a pair. Spetz and Coady ignited the three-run first with a single and a double to start the inning. Spetz scored on a sacrifice fly by McHugh and Coady and
Taylor Carlson
(Madison, WI/LaFollette) later scored on a two-run double to center by
Bobby Gregorich
(Plover, WI/SPASH), who was hit safely in eight games in a row. After Ripon scored in the second, a double by
Casey Barnes
(Mequon, WI/Homestead) and a single by
Harry Steldt
(West Bend, WI/West) drove in runs in the third as UW-Stevens Point stretched its lead to 5-1. The final two runs came on a sacrifice fly by
Brandon Kranz
(Waukesha, WI/West) in the fourth and a groundout by McHugh in the eighth. No. 15 UW-Stevens Point 7, Ripon 3 |
Box
McHugh broke a 3-3 tie with a two-run home run, his fifth of the season, in the top of the sixth. The junior finished 2-for-4 with a double, home run, three runs and two RBI and he now has driven in at least one run in eight straight games. After trailing 3-1, Ripon tied the game at 3-3 in the bottom of the fifth on run-scoring doubles by Nick Uhen and Tom Sawyer. After Sawyer's double, Flood replaced starter
Brad Stroik
(Stevens Point, WI/SPASH) and held the Red Hawks to a single hit in 4.1 innings to earn his first win of the season. Like game one, UW-Stevens Point got off to an early lead, scoring twice in the first inning. Kranz drove in Spetz, who scored for the sixth game in a row, with a double as part of a 3-for-5 game that included a run and two RBI. Carlson added an RBI on a sacrifice fly. Carlson also knocked in the Pointers' third run with a third-inning double that plated Kranz. Carlson joined McHugh and Kranz in recording a two-RBI game, as UWSP tallied 13 hits. UW-Stevens Point added insurance runs in the seventh and eighth on RBI singles by
Cody Hanke
(Marathon, WI/Marathon) and Kranz.The Pointers complete their regular season schedule at UW-Stout on Saturday and Sunday, May 3-4. Games begin at noon in Menomonie both days this weekend.