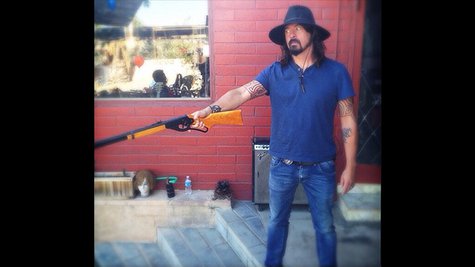 It seems there'll be new Foo Fighters material in the not-too-distant future. Dave Catching , who owns Rancho de la Luna Studios in Joshua Tree, California, has posted pictures of Dave Grohl and his band mates on his Instagram page .
The photos show Grohl, Pat Smear and the others relaxing, aiming small shotguns in what appears to be target shooting and playing around a flaming barbeque. Over the last handful of days, there have also been photos posted of reel-to-reel tape recording.
This would seem to be confirmation of the rumors that have been growing for a while now -- that the Foo Fighters are holed up at Rancho de la Luna recording a new album. Another still-unconfirmed element of those rumors is that Nirvana Nevermind producer Butch Vig is working on some of the new music.
Stay tuned.
Copyright 2014 ABC News Radio