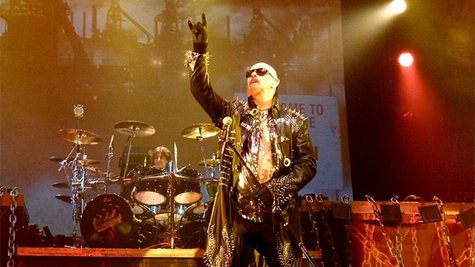 As previously reported, Judas Priest announced that its long-awaited new album Redeemer of Souls will be released on July 15, and also made available a live stream of the title track via the band's official YouTube channel .
Now there's more news: an official track listing of all 13 songs featured on the new album. For diehard fans, there also will be a Deluxe Edition of Redeemer of Souls with five bonus tracks.
Among the new song titles is "March of the Damned," the album's lead single, as well as "Halls of Valhalla," "Hell & Back," "Metalizer," "Secrets of the Dead," and "Battle Cry." The material was co-written by frontman Rob Halford and founding guitarist Glenn Tipton , along with Judas Priest's new guitarist, Richie Faulkner .

In a joint statement about the new album, the band says "We feel Redeemer of Souls reinforces our passion for what we believe in from the Judas Priest style heavy metal."

The metal gods add that the record offers a "classic combination of all the statements we love to create with raging guitar riffs and solos, thundering drums, thick grooves of bass and vocals tearing it all up!"

Here's the full Redeemer of Souls track list:
"Dragonaut"
"Redeemer of Souls"
"Halls of Valhalla"
"Sword of Damocles"
"March of the Damned"
"Down in Flames"
"Hell & Back"
"Cold Blooded"
"Metalizer"
"Crossfire"
"Secrets of the Dead"
"Battle Cry"
"Beginning of the End"
Bonus Tracks
"Snakebite"
"Tears of Blood"
"Creatures"
"Bring It On"
"Never Forget"
Copyright 2014 ABC News Radio