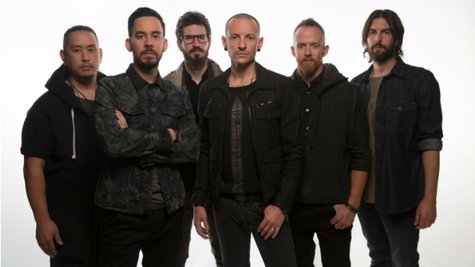 Linkin Park multi-instrumentalist Mike Shinoda says in a new interview that the band's new album is something of a response to bands like Arcade Fire .
Shinoda tells Kerrang ! that he got tired of all of the bands cloning the music of Mumford and Sons and Arcade Fire. "I read a blog last year about music sucking right now and being really depressing, and I had to agree," he says. "There are bands like Mumford & Sons and Arcade Fire, who are both fine if you like that sort of thing. But then there are just hundreds of bands trying to be like them."
Shinoda says he has a playlist of music by other bands he likes called "Yelling over guitars." "I love all that stuff and I was getting annoyed that some younger people aren't familiar with that aesthetic," he says. "Then I thought, 'Why don't we just make the stuff we want to hear, instead of sitting around and being frustrated that nobody's making music with that vibe for us?'"
The band's response, The Hunting Party , is set for release on June 16. The record will boast appearances by Helmet and Tapeworm guitarist Page Hamilton , System of a Down 's Daron Malakina and Rage Against the Machine guitarist Tom Morello .
The Hunting Party 's track list is as follows:
"Keys to the Kingdom"
"All for Nothing" (featuring Page Hamilton)
"Guilty All the Same" (featuring Rakim)
"The Summoning"
"War"
"Wastelands"
"Until It's Gone"
"Rebellion" (featuring Daron Malakian)
"Mark the Graves"
"Drawbar" (featuring Tom Morello)
"Final Masquerade"
"A Line in the Sand"
Copyright 2014 ABC News Radio