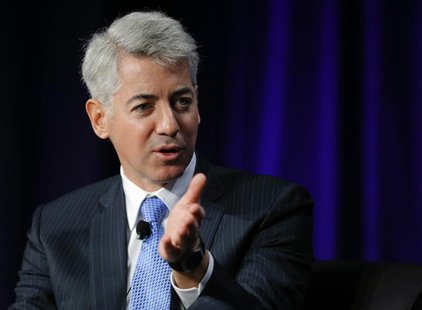 By Svea Herbst-Bayliss
BOSTON (Reuters) - Hedge fund manager William Ackman's $13.6 billion Pershing Square Capital Management has received permission from the U.S. Federal Trade Commission to turn Allergan Inc options into shares, a source familiar with the matter said on Friday.
Ackman is working with Valeant Pharmaceuticals International Inc to buy the Botox maker. Two weeks ago, Pershing Square said in a U.S. regulatory filing that it had acquired a nearly 10 percent stake in Allergan, using call options and forward contracts to help build its position.
The Hart-Scott-Rodino Act requires that investors notify the FTC and the Justice Department's antitrust division before making acquisitions of voting securities. Usually there is a 30-day waiting period before the transactions can be finalized. In this case the hedge fund received permission to proceed within two weeks of making its original filing on April 21.
The step does not, however, mean that Pershing Square is trying to buying more of the company; it could be merely seeking to transform its stake into stock. In that case, the fund would have put roughly one-third of its assets into this bet.
Allergan reacted to Valeant's unwanted $47 billion takeover bid by adopting a so-called poison pill that essentially prevents Pershing Square from acquiring more than the 9.7 percent stake it already has. If the fund were to cross the 10 percent threshold, other investors would be allowed to buy discounted shares.
By announcing that Pershing Square was working with Valeant as a group, the activist fund essentially jump-started the process of waiting for a catalyst to push the stock price higher, making it a model that other hedge fund managers said might be tried again.
Other hedge funds, including Citadel, Viking Global Investors and Highfields Capital, have also been recent buyers of Allergan stock, according to ThomsonReuters data.
(Reporting by Svea Herbst-Bayliss; Editing by Lisa Von Ahn and Steve Orlofsky)