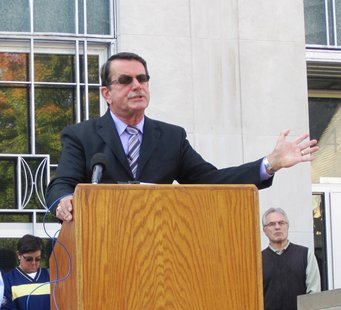 UNDATED (WSAU) A newspaper letter-to-the-editor claims that Wausau mayor Jim Tipple did not vacation at the Florida home of developer Chuck Ghidorzi.
Randy Baars wrote a letter to the Wausau Daily Herald which was published on May 13. The letter states that Wausau Mayor Jim Tipple and his wife vacationed with five other couples last month in April. Some members of the City Council had questioned whether the mayor was vacationing at a Ghidorzi family home in Flordia. The mayor had not commented, saying that his vacation plans were not a matter of public record. Mayor Tipple was asked if he paid his own way. He told the Wausau Daily Herald, "absolutely". Questions were raised about the vacation when several of the mayors phone calls were blacked out from an open-records request. Three of those calls where to Ghidorzi company numbers.
Baars says his wife researched and booked a Florida vacation home. The Baars family made the down payment and the advance payments on the rental property, and was reimbursed by the other couples who shared the home.
Chuck Ghidorzi and his wife were among the families that vacationed with the mayor. Ghidorzi has been involved in numerous development projects that needed city approvals and support.
Baars says all of the vacationers became friends while their children attended high school, and those friendships continued after the kids graduated. Baars says the couples meet socially several times a year.