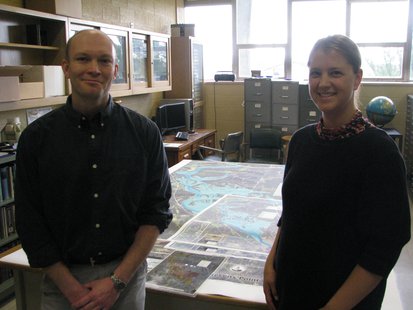 STEVENS POINT, Wis. (WSAU) -- A new map will be unveiled Thursday that will benefit fishermen and recreational users of the Wisconsin River near Stevens Point.
It's called a Bathymetric map, and it was created by students, faculty and staff at UW-Stevens Point's Geographic Information Systems (GIS) Center, which is part of the College of Letters and Science. Graduate student Christine Koeller was the project leader, assisted by faculty advisers Douglas Miskowiak and Keith Rice and undergraduate researchers Mason Johnson and Bryan Deegan, and volunteer Nick Koeller.
Christine Koeller says there was no previous map showing the underwater features of the flowage between the Clark Street bridge and the Highway 10 bridge. She says many people and groups agreed it would be a good resource. "Seeing where those steep shelves are located, seeing what the topography of what the backwaters area is, that's going to be very important. It's real easy to distinguish where the main channel of the river originally cut through, and then we've done a really good job of inventorying what the islands look like out on the flowage."
The GPS, or global positioning system satellites are working with a sonar device to record over 120,000 data points in the Stevens Point Flowage of the Wisconsin River. Koeller says the accuracy is of the GPS locations is less than a centimeter, and it's very accurate. "The equipment has the capability of recording that information every second, so as you're boating along at four or five miles-an-hour when we're doing a survey like this, every second it's collecting your latitude, longitude, and depth position."
Advisor Douglas Miskowiak says the UWSP Geographic Information Systems Center donated use of the equipment and labor, but Christine and her crew put in a lot of hours gathering the data. "This represents about thirteen discontinuous days on the water with one graduate student and a couple of undergraduates performing the field surveys, and then many days in the lab interpreting that information."
Miskowiak says a project like this usually costs about six to eight dollars an acre to map, but in this case, they only had to come up with sponsors to cover printing costs. He says when people found out they were mapping the flowage, several groups and individuals came to them. "Christine and our undergraduates were largely in charge of getting the sponsors, and they were getting phone calls and emails from, I think we had twenty sponsors in the end sponsor the map, so our goal I think was to attract thirty sponsors. We got over $5,000 raised to have the map printed."
The completed maps will be unveiled at a ceremony in Bukolt Park's Lodge at 4:30 p.m., and several will be available for the public. It's 23 X 35 inches and printed waterproof and tear proof paper. Information on public access, parks and recreational uses, islands, channels and flowage depths are all part of the map.
(You can learn a lot more about the map and the planning and technology involved by listening to our interview on our website, here.)