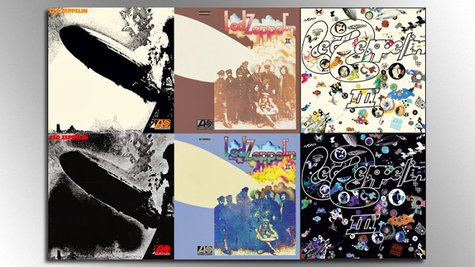 Just a reminder that a special listening party for the new Led Zeppelin reissues will take place today at L'Olympia music hall in Paris and will be streamed live online at the band's official YouTube channel at 3:30 p.m. ET. Guitarist Jimmy Page is scheduled to be on hand for the event, during which attendees will get to hear for the first time the unreleased companion audio recordings featured on the soon-to-be-released expanded albums -- Led Zeppelin , Led Zeppelin II and Led Zeppelin III .
L'Olympia is the very venue that hosted an October 1969 concert by Led Zeppelin, audio of which is featured on the bonus disc included as part of the forthcoming deluxe edition of the band's self-titled debut album. The reissues are scheduled to be released in the U.S. on June 3.
Meanwhile, a new trailer for the deluxe edition of Led Zeppelin III recently premiered on the band's YouTube channel. The minute-long clip is set to an alternate mix of "The Immigrant Song" that appears on the collection's bonus disc, and features brief film snippets of the band performing in concert, as well as a montage of images that include the revamped album's cover art and various archival photos that appear as part of the release's packaging. The trailer also offers up interesting information about the reissue, noting that it includes eight studio outtakes and one previously unreleased track.
Follow @ABCNewsRadio Copyright 2014 ABC News Radio