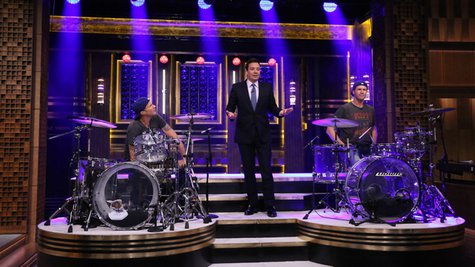 On Thursday's edition of The Tonight Show Starring Jimmy Fallon , Will Ferrell and Red Hot Chili Peppers drummer Chad Smith made good on their fake feud challenge to hold a drum-off.
The mock public beef between the two lookalikes started back in February when, following the Peppers' appearance at the Super Bowl, Ferrell jumped into a Reddit Ask Me Anything session with Smith, with whom he'd been trading public barbs over their physical resemblance to one another.
"I graciously accept your invitation to a drum battle," Ferrell declared at the time. Ferrell accepted the challenge provided they could raise $300,000 for Cancer for College, a charity that provides college scholarships for cancer survivors. They reached that goal a short time later.
In an interview with Fallon Thursday before the drum-off, Ferrell and Smith switched identities, and the comedian -- pretending to be Smith -- said he was upset when he learned he had an imposter and the news had had a negative impact on the band.
Ferrell and Smith then sat down behind two drum kits and exchanged brief solos. The rest of the Red Hot Chili Peppers then appeared and the band launched into a cover of Blue Oyster Cult 's "(Don't Fear) the Reaper," with Ferrell accompanying them on cowbell, in homage to the famous Saturday Night Live skit in which he did the same thing.
Follow @ABCNewsRadio
Copyright 2014 ABC News Radio