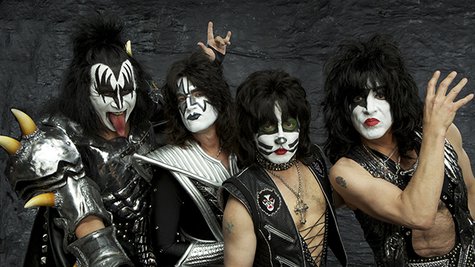 There's no "first class" in the war of words between Modern Family 's Eric Stonestreet and Gene Simmons of KISS .
Simmons and KISS bandmate Paul Stanley were booked on the same Wednesday morning flight to Kansas City plane as Stonestreet's mom. That's when the trouble began. Stonestreet wrote Wednesday in an Instagram post that the two KISS members "tried to bully my mom out of her seat" and called her "Aunt Bee" -- each of which he called a "d*ck move." Stonestreet further writes when his mom refused to move, Simmons told her, "It's okay, I just bought the plane," and then asked her for her autograph.
Stonestreet then calls out the 60+ year-old rock stars: "I can't wait to run into you two old ass, makeup-wearing f**ks and tell you in person you should have been nicer to my mom," he writes.
Simmons flatly denies the incident. In a Twitter post responding to a fan's inquiry, Gene Simmons said, "Someone posted a story which is blatantly untrue. The essence of it was that we were mean to somebody's mother. It's simply untrue."
Stonestreet then tweeted directly to Simmons , "@genesimmons it was me and it was my mom. Just say sorry for the confusion Jamey Stonestreet and we're good."
Simmons continued to deny and Stonestreet to insist until Stanley stepped in to play peacemaker, teeeting to Stonestreet, "I actually waited so your mom could get off first. The rest-A misunderstanding of joking. I apologize anyway. Good son."
Stonestreet responded to Stanley, "Thank u for that. She did tell me you let her go first. I will tape my glow in the dark KISS posters back together now."
The actor then tweeted, "Ok @genesimmons . Take care. I assure u, I will have a stern talk with my mom about making up stories. Old people, ya know? OUR apologies:)" It's not clear if Stonestreet was being sincere or sarcastic.
Follow @ABCNewsRadio Copyright 2014 ABC News Radio