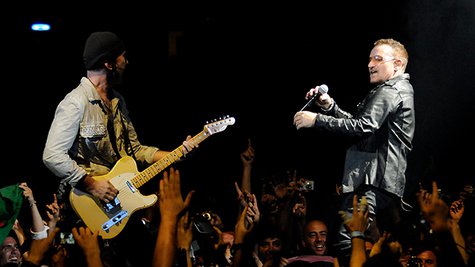 Bono and The Edge have joined the Fender Musical Instrument company's board of directors. The U2 band mates have signed on in what each side is calling a winning situation. In a press release , Fender Co-Chairman Bill McGlashen says, "By adding The Edge and Bono to the board...we are taking an important step toward building a company that is able to meet its potential as a business and a brand."
While Bono called Fender "a standard-bearer," The Edge revealed that he might have an ulterior motive up his sleeve. " This is something of a kid in a candy store situation for me," he said. "I've been a fan of Fender guitars from the beginning, playing them on all the most important U2 tours and albums. But I'm most interested in working with the Fender design team on some new ideas [I have]."
Besides their primary brand -- Fender -- Fender Musical Instruments Corporation owns Gretsch, Takamine, Charvel, Jackson, Ovation and other guitar imprints.
Follow @ABCNewsRadio Copyright 2014 ABC News Radio