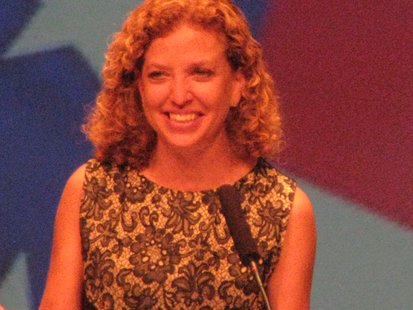 WAUSAU, Wis. (WSAU) -- Comments made in Milwaukee by the Democratic National Committee Chairwoman Debbie Wasserman Schultz are bringing criticism from many Republicans, and even a few Democrats.
At a discussion about women's issues at the Milwaukee Athletic Club, Wasserman-Schultz was highly critical of Governor Scott Walker, and quoted by the Milwaukee Journal Sentinel as saying, "Scott Walker has given women the back of his hand. I know that is stark. I know that is direct. But that is reality." She went on to say, "What Republican Tea Party extremists like Scott Walker are doing is they are grabbing us by the hair and pulling us back. It is not going to happen on our watch."
Online publication The Hill reports Republicans believe the Democratic National Committee Chairwoman went over the line. Lieutenant Governor Rebecca Kleefisch called Wasserman-Schultz' comments "despicable" and "absolutely hideous."
Even Democratic gubernatorial candidate Mary Burke's campaign distanced itself from Wasserman-Schultz' remarks. Burke's spokesperson Stephanie Wilson said, "That's not the type of language that Mary Burke would use, or has used, to point out the clear differences in this contest" and went on to say, "There is plenty that she and Governor Walker disagree on, but those disagreements can and should be pointed out respectfully."
The news about Wasserman-Schultz' Wednesday morning remarks traveled quickly. By Wednesday afternoon, Wasserman-Schultz wasn't saying anything that wasn't part of prepared remarks for a campaign rally at the Wausau Labor Temple, or the dedication of the David R. Obey Civic Resources Center.
WSAU Radio reporter Raymond Neupert was able to record the Labor Temple speech, but Wasserman-Schultz' staff made it clear there would be no media interviews at this event.
Later, Wasserman-Schultz spoke at the David Obey Civic Resources Center dedication at UW Marathon County. After the program, WSAU reporter Larry Lee introduced himself to the Congresswoman and requested an interview. As they were walking to a quieter part of the room for the interview, she asked what they would talk about. Lee said he wanted to ask her about the Obey Center and about her earlier appearance in Milwaukee. At that point, Wasserman-Schultz excused herself, and Special Assistant to The Chair Stacy Eichner came back to explain there would be no time for interviews, as they were in a hurry to get back to Milwaukee. There appeared to be no rush to leave, as Wasserman-Schultz remained among the crowd for the next twenty minutes... but she declined all media interview requests.
Gubernatorial Candidate Mary Burke was in Wausau and made an appearance at the UW Marathon County Campus, but was noticeably absent during the 5:15 p.m. dedication ceremony. She was campaigning in the area. Burke is also in Wausau Thursday morning attending a Women's Leadership Round Table discussion.