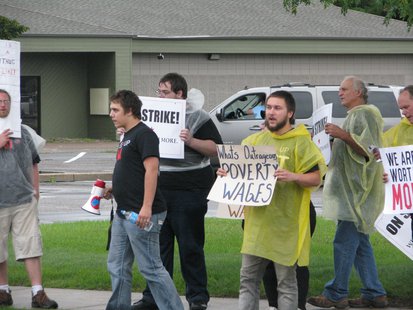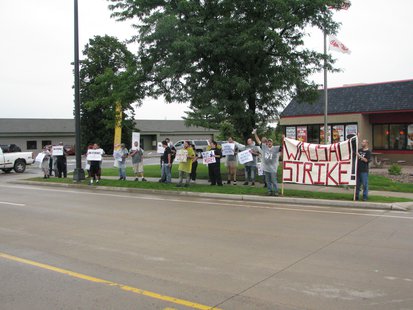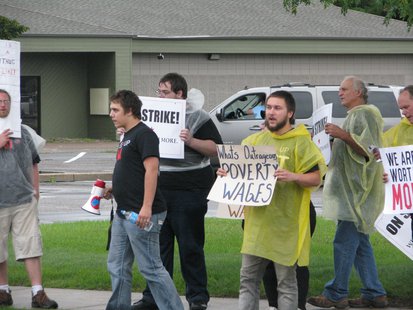 WAUSAU, Wis. (WSAU) -- About thirty people took part in a demonstration supporting increased minimum wage pay for food service workers in Wausau Thursday. The group didn't spend long at each location, but did chant along the road and raise awareness at Wendy's in Schofield, Hardee's in Wausau, and Cherry Berry in Wausau.
Brandi Barreto works at Hardee's on Stewart Avenue. She was on the schedule to work Thursday, but instead participated in the strike. She believes workers deserve to make enough to support themselves. "I try the best that I can. I'm trained in all areas of my job, so I feel I deserve a little bit more appreciation and a little bit more money."
Hardee's Manager Garrett Kiscow declined to comment on the issue, referring questions to the corporate office.
Barreto says some coworkers believe in the effort to get $15.00 an hour and the ability to form a labor union, but they choose not to participate in the strike. "When I go ahead and talk to him about going on strike, it's either fear or 'I'm on BadgerCare' or 'Oh, I got this welfare at the end of the month.' One of the biggest points about this movement is that people shouldn't have to rely on government assistance if they're working full time and if they're actually trying to better themselves and working hard."
Organizer Melissa Engels-Lewis works with her husband and other volunteers with Wisconsin Jobs Now, the pro-union group behind many of the strikes. She believes the problem with low pay is not so much a local manager problem but is higher up. "We think it's a corporate problem. I think the CEO of McDonald's, for instance, made about two-and-a-half million dollars last year on his paycheck, and we just don't understand why the workers that are putting in the work can't make ends meet."
Engels-Lewis believes they are having some success, but says their members are not seeing the wage increases they need. When asked if any of the group had considered going back for training to fill the high-technology and higher paying jobs Democrats and Republicans refer to as the "skills gap" jobs, she says several people she works with have college degrees and no decent jobs, and are in debt and struggling to make ends meet.
(Click on their names to listen to the interviews with Melissa Engels-Lewis and Brandi Barreto on our website.)