« Shows & Personalities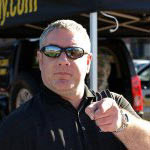 Mojo
On Air:

Weeknights, 7pm - Midnight
My name is Mojo. I love what I do for a living! It's an honor to rock your ass with the Commercial-Free Rock N Roll Sideshow!

I'm a pretty simple man. I am a fan of the Chicago Cubs (outside of my family and radio, that's my other true love). I come from a history of hotel and restaurant management, I realized that customer service sucks, so I got into radio. Although radio is a "customer service" industry for you, the listener, at least I don't have to listen to you whine about your soiled linens. I'm not one of those people that gets off on someone else's misfortune.

The best part of my job is being involved in the charitable work that I do. Helping someone else is gratifying and let's face it, at the end of the day, all we have are each other.

Goals in life that I want to achieve are visiting another country (not Canada or Mexico, already done that), seeing the Cub's win the World Series (hold my breath right??) and to be the one you come to for relentless rock n roll. If I could only have one food for the rest of my life I would pick sushi, hands down.