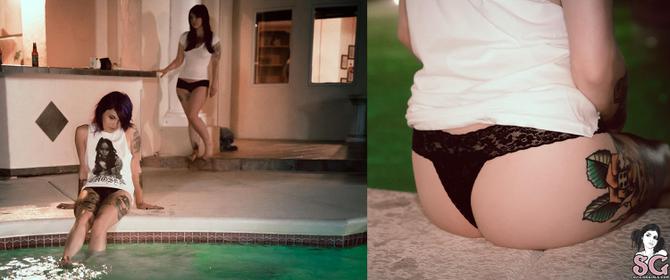 https://suicidegirls.com/girls/acacia/ 

Vital Stats:
HEIGHT: 5'7"
BOOZE: I AM A COMPLETE DRUNKARD
KINK FACTOR: I'LL TRY ANYTHING ONCE, ESPECIALLY IF YOU BEG FOR IT.
STATUS: SINGLE
TELEVISION: THE OLD BEETLEJUICE CARTOON SERIES THE TWILIGHT ZONE TRUE BLOOD
FILMS: BRIDE OF FRANKENSTEIN DUE DATE HOCUS POCUS THE LOST BOYS VAMPIRE MOVIES
BOOKS: 1984 THE GIVING TREE THIS IS GONNA HURT
ARTIST: CAMILLA ROSE GARCIA LAURIE LIPTON MARK RYDEN SILVIA JI
INTO: AND MANNEQUIN HEADS. BLACK LACE METAL
5 THINGS THAT I CAN'T LIVE WITHOUT: GOOD COMPANY LAUGHTER LIP GLOSS SRIRACHA STARBUCKS
I SPEND MOST OF MY FREE TIME: BEING AWESOME.
MUSIC: CITY AND COLOUR DEPECHE MODE EXPLOSIONS IN THE SKY HAMMOCK HIM MOTIONLESS IN WHITE NINE INCH NAILS ORGY SIGUR ROS THE CURE THE SMITHS VAMPIRES EVERYWHERE!
*******************************************************************************************************************
https://suicidegirls.com/girls/ryker/ 

Vital Stats:
DRUG USE: DRUG FREE
STATUS: EXCLUSIVE RELATIONSHIP
BOOZE: I AM A COMPLETE DRUNKARD
KINK FACTOR: I'LL TRY ANYTHING ONCE, ESPECIALLY IF YOU BEG FOR IT.
CIGARETTES: I'M GIVING UP
POLITICS: NONE APPLY, YOU A$$HOLES
WEED: OCCASIONALLY
DIET: OMNIVORE
TELEVISION: ARE YOU AFRAID OF THE DARK BATTLESTAR GALACTICA BOARDWALK EMPIRE BREAKING BAD DESPERATE HOUSEWIVES DEXTER GAME OF THRONES GIRLS GREYS ANATOMY HEROES HOUSE OF CARDS I LOVE LUCY LOST MR. SHOW ONCE UPON A TIME PARKS AND RECREATION PARTY OF FIVE REVENGE SCANDAL SOUTH PARK SUPERNATURAL THE BORGIAS THE GOOD WIFE THE SIMPSONS THE SOPRANOS THE TUDORS TRUE BLOOD
FILMS: AMADEUS AMERICAN BEAUTY DISNEY CLASSICS FROZEN GENTLEMEN PREFER BLONDES GONE WITH THE WIND HARRY POTTER AND THE GOBLET OF FIRE HEDWIG AND THE ANGRY INCH INGLORIOUS BASTARDS ROCKY HORROR PICTURE SHOW ROGERS AND HAMMERSTEIN COLLECTION SOUND OF MUSIC STAR TREK THE GREAT GATSBY THE NIGHTMARE BEFORE CHRISTMAS USUAL SUSPECTS WIZARD OF OZ WRECK IT RALPH
BOOKS: COMICS FACTOTUM GAME OF THRONES HARRY POTTER HEAVIER THAN HEAVEN HUNGER GAMES LAST EXIT TO BROOKLYN NO ONE HERE GETS OUT ALIVE SOOKIE STACKHOUSE THE OUTSIDERS THE SWORD OF TRUTH WHAT'S THE STORY? YOU GET SO ALONE AT TIMES IT JUST MAKES SENSE
VIDEO GAMES: ALICE BARTS NIGHTMARE BATMAN BIOSHOCK DUCK HUNT HARRY POTTER KINGDOM HEARTS LEGO HARRY POTTER MADDEN MARIO BROS MARIO KART MARIO PARTY OVERLORD SONIC 2 SONIC AND KNUCKLES TIGER WOODS TMNT ULTIMATE ALLIANCE VIRTUAL BART WII SPORTS ZELDA OCARINA OF TIME
MY IDEA OF A GOOD TIME: A LONG, SLOW, LATE DINNER WITH FRIENDS.
STAY IN AND WATCH OLD MOVIES ON TV.
WHEN I GO OUT, ANYTHING CAN HAPPEN.
INTO: ANIMALS ANYTHING THAT HAS TO DO WITH FOOD AND WINE COOKING CRAFTING FANTASY FICTION GAMING HISTORY MAGIC THE GATHERING MOVIES MUSIC MY STORIES PHOTOGRAPHY PSYCHOLOGY READING TATTOOS TRAVELING
5 THINGS THAT I CAN'T LIVE WITHOUT: BOOKS MUSIC. MY FAMILY MY STORIES
I SPEND MOST OF MY FREE TIME: BEING A TV JUNKIE COOKING HOUSEWIFE THINGS PLAYING VIDEO GAMES WORKING ON A CRAFT PROJECT
MUSIC: 311 AGAINST ALL AUTHORITY AGAINST ME! ALKALINE TRIO ANTI-FLAG BLACK FLAG BOUNCING SOULS BRAND NEW BRIGHT EYES COOPER TEMPLE CLAUS DASHBOARD CONFESSIONAL DAVID BOWIE DISTILLERS FEIST FLAMING LIPS FLOGGING MOLLY FROM AUTUMN TO ASHES FUGAZZI GUTTERMOUTH INGRID MICHEALSON IRON AND WINE JACK WHITE LED ZEPPELIN LOCAL H MIDDLE CLASS RUT MINOR THREAT MINUS THE BEAR MOGWAI MOZART MUSE NEUTRAL MILK HOTEL NIRVANA OASIS OPERATION IVY OUR LADY PEACE POISON THE WELL POSTAL SERVICE QUEEN RACONTEURS RANCID RED HOUSE PAINTERS REFUSED RISE AGAINST RIVERBOAT GAMBLERS SAETIA SEX PISTOLS SILVERCHAIR SMASHING PUMPKINS STABBING WESTWARD STRAYLIGHT RUN SUNNY DAY REAL ESTATE TAKING BACK SUNDAY THE CARS THE DOORS THE KILLERS THE PIXIES THE POGUES THE SHINS THE TRANSPLANTS TRANSPLANTS VAMPIRE WEEKEND VANNA WAR PAINT WEEZAR WHITE STRIPES YEAH YEAH YEAHS