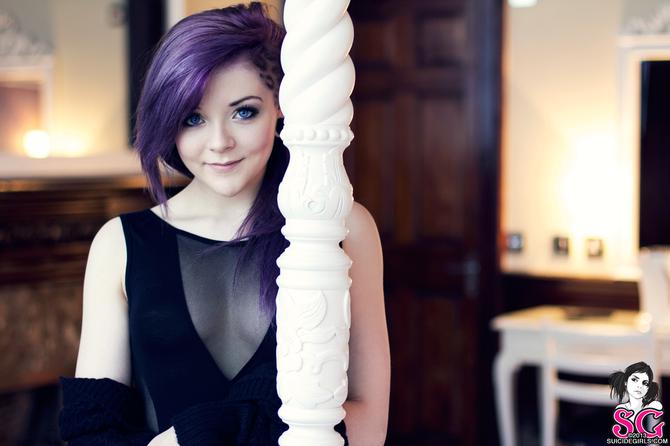 https://suicidegirls.com/girls/maisie/

Vital Stats:
HEIGHT: 5'4"
WEIGHT: 106LBS
DRUG USE: DRUG FREE
STATUS: EXCLUSIVE RELATIONSHIP
SEX: IF WE GET INTO A RELATIONSHIP
KINK FACTOR: I'LL TRY ANYTHING ONCE, ESPECIALLY IF YOU BEG FOR IT.
CIGARETTES: NOPE
WEED: NOPE
BOOZE: OCCASIONALLY
DIET: OMNIVORE
POLITICS: POLITICS, WHO CARES?
BODY TYPE: SLENDER
I AM LOOKING FOR: WHOEVER COMES ALONG
TELEVISION: 8 OUT OF 10 CATS HOLLYOAKS MADE IN CHELSEA MISFITS MOCK THE WEEK SKINS THIS IS ENGLAND 86 WATERLOO ROAD
FILMS: BAD GRANDPA DODGEBALL FORREST GUMP JACKASS LITTLE NICKY PURSUIT OF HAPPINESS SCHINDLERS LIST THE FAST AND THE FURIOUS THE HELP THE RINGER THIS IS ENGLAND TRAINSPOTTING TRANSFORMERS TWILIGHT WOLF OF WALL STREET
BOOKS: MY SISTERS KEEPER THE CURIOUS INCIDENT OF THE DOG IN THE NIGHT-TIME THE LIGHT IN OUR STARS THE RISE AND FALL OF GREAT POWERS TO KILL A MOCKINGBIRD TO RISE AGAIN AT A DECENT HOUR TRAINSPOTTING
ARTIST: ALL ART IS BEAUTIFUL!
VIDEO GAMES: GTA V
MY IDEA OF A GOOD TIME: A LONG, SLOW, LATE DINNER WITH FRIENDS.
BARS, AFTER PARTIES, HOME BY DAWN.
INTERNET. ALL NIGHT. AGAIN.
INTO: DOGS FESTIVALS GIGS MUSIC PIERCINGS ROAD TRIPS ROMANCE TATTOOS TRAVELLING
5 THINGS THAT I CAN'T LIVE WITHOUT: COCA COLA FRIENDS MY BED MY MEMORY BOX MY PHONE
I SPEND MOST OF MY FREE TIME: DANCING LISTENING TO MUSIC READING RUNNING SNUGGLED UP IN BED
MUSIC: ANYTHING AND EVERYTHING! DUBSTEP GARAGE GRIME HOUSE TECHNO