Miller Harley Giveaway
You could win a Harley-Davidson motorcycle!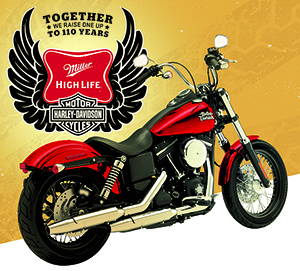 Thank you to everyone who stopped by for their chance to win one of two Sportster 1200 Special Edition Sportster 48 motorcycles given away by Miller and Harley-Davidson!
🏆

And The Winners Are...

Two separate winners will each ride away with their own Harley-Davidson motorcycle: one on August 21 at the Holiday Inn in Stevens Point from 6pm-9:30pm and one on August 29 in Wausau at Bunker's from 6:30pm-10pm.

Stop by for entertainment and refreshments as we announce the big winners!

For full-length information and rules for entry, visit the official rules here, here, and here.