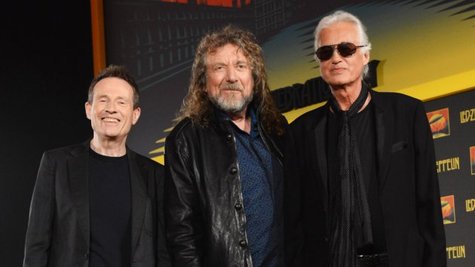 David Letterman welcomed fellow newly-minted Kennedy Center Honorees Robert Plant , Jimmy Page and John Paul Jones on Monday night's installment of The Late Show . Not surprisingly, they chatted about receiving the honor the previous night and discussed artists like Kid Rock , Dave Grohl , Ann and Nancy Wilson and others who paid musical tribute to Led Zeppelin . "It was quite a surprise what happened," Page commented, saying it was "quite exhilarating to hear the different approaches people had to the songs."
Page also explained to Letterman why the band never hired a new drummer and played on after the 1980 death of Jon Bonham , but instead called it quits. "There was just no way with the amount of work and mutation that had gone into those songs that there was just no way we could have gone to another drummer and said, 'Oh, could you learn this bit, could you learn that bit?'" said Page. "It just wouldn't work."
The Kennedy Center Honors gala airs December 26 on CBS.
Copyright 2012 ABC News Radio