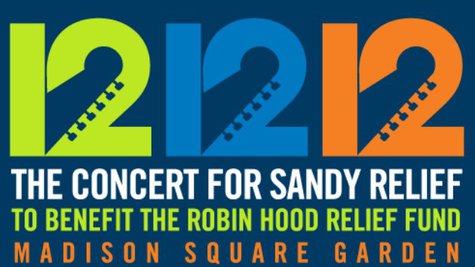 12.12.12 -- The Concert for Sandy Relief is over, but some cool collectibles signed by many of the superstars who performed at the benefit show are up for bid now online to help raise more money for those affected by the devastating storm.
Among the items being auctioned are several electric guitars, drum cymbals, commemorative posters and a Marshall amplifier autographed by such famous musicians as Paul McCartney , Eric Clapton , Bruce Springsteen , The Who 's Roger Daltrey and Pete Townshend , Roger Waters , Billy Joel , Jon Bon Jovi , Pearl Jam 's Eddie Vedder , Foo Fighters ' Dave Grohl and others.
Other signed pieces of memorabilia being sold include the shirt Springsteen wore onstage during the big event; Coldplay singer Chris Martin 's personal backstage pass, which he and his special guest, R.E.M. 's Michael Stipe , both autographed; and the drumsticks Grohl played during the surviving members of Nirvana 's reunion performance with McCartney.
The auction, which is being hosted by CharityBuzz.com , closes on Thursday. Proceeds from sale will benefit the Robin Hood Relief Fund, which is providing money, materials and information to charitable organizations that are helping families and areas severely affected hit by the storm.
The 12.12.12 concert was held Wednesday night at Madison Square Garden in New York City.
Copyright 2012 ABC News Radio