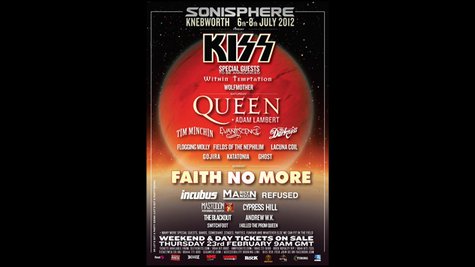 It's official: this year's Sonisphere Festival in the UK has been cancelled. The event was scheduled for July 6-8 at Knebworth Park in Hertfordshire, England.
"It is with very heavy hearts and much regret that we announce the cancellation of Sonisphere Knebworth 2012," reads a statement on the festival's website. "Putting the festival together in what is proving to be a very challenging year was more difficult than we anticipated and we have spent the last few months fighting hard to keep Sonisphere in the calendar. Unfortunately, circumstances have dictated that we would be unable to run the festival to a standard that both the artists and that Sonisphere's audience would rightly expect."
Festival organizers say all ticket holders will receive a full refund from their ticket agents. The lineup included headliners Kiss , Queen + Adam Lambert and Faith No More as well as Wolfmother , Evanescence , The Darkness , Incubus , Marilyn Manson and others.
Copyright 2012 ABC News Radio