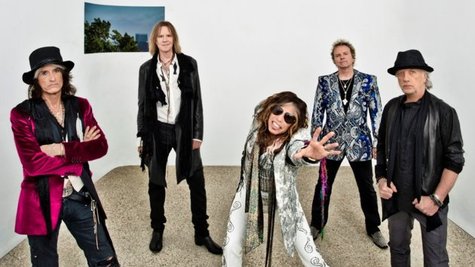 Aerosmith 's long-awaited studio effort Music from Another Dimension! finally will be released this Tuesday, and to celebrate the album's arrival, the Boston bad boys will be popping up on a variety of TV shows in the coming days.
On Thursday night, the band will rock the stage on CBS' The Late Show with David Letterman . In addition, frontman Steven Tyler and guitarist Joe Perry will chat with Letterman. The Late Show airs at 11:35 p.m. ET/10:35 p.m. PT.
Then, early on Friday, Aerosmith will play an outdoor set during NBC's Today show as part of the program's Toyota Concert Series. Also that day, the Rock and Roll Hall of Famers will appear on ABC's The View and on VH1 Big Morning Buzz Live .
As previously reported, this Monday, Aerosmith will return to its hometown of Boston, where the group will play a special show at an as-yet-unannounced location at noon ET. The band will reveal the site of the concert that morning.
Lastly, Aerosmith will kick off the second leg of its Global Warming World Tour next Thursday, two days after the release of Music from Another Dimension! The trek gets under way in Oklahoma City and is scheduled to run through a December 13 show in Nashville.
Copyright 2012 ABC News Radio