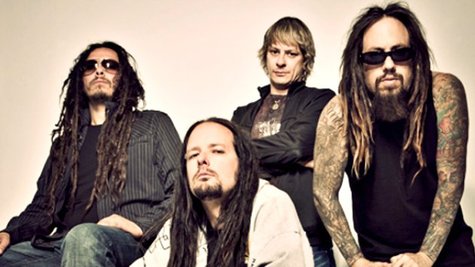 For a couple of months now, Korn has been busy working on their next album. Guitarist James "Munky" Shaffer has revealed that the guys have amassed a large amount of material in that time and they are moving forward with securing a producer.
"We have 15 new Korn songs written, which is really cool," Shaffer tells Revolver . "We have massive choruses and we have riff sections. We're kind of waiting for [frontman] Jonathan [ Davis ] to put lyric ideas on them so we can move into the recording process."
Shaffer adds that the forthcoming album won't sound anything like their 2011 dubstep album, The Path to Totality . "We're not gonna try to put out a dance album," he explains. "It's very much going to be a metal album and I think a guitar-heavy record."
In other Korn news, the band has announced on their Facebook page that they will be reuniting with former guitarist Brian "Head" Welch to perform two full shows next year in Germany. This will be the first time that Welch has sat in with the band for a full concert since 2004. Korn's shows with Welch will take place at next year's Rock am Ring and Rock im Park festivals on June 7-9, 2013 in the towns of Nürburgring and Nürnberg, respectively.
Copyright 2012 ABC News Radio