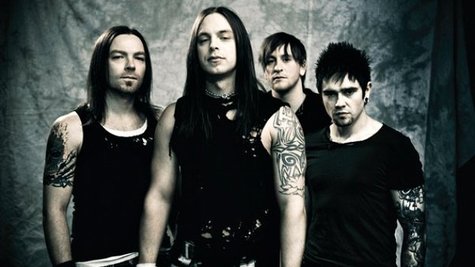 When Bullet for My Valentine headed into the studio to record their forth studio album, Temper Temper , the band decided to try something different. Frontman Matthew Tuck says that the band experimented with new songwriting and recording processes for the forthcoming release, which is due on February 12, 2013.
"[ Temper Temper ] was a very different affair really compared to anything we've ever really done," the singer tells ABC News Radio. "We didn't do any demoing, pre-writing or anything for this record. The concept behind it was just go to the studio, write and record as we went along and, kind of, capture that spontaneity and excitement. It was just a very quick process rather than kind of just re-recording track and track which you've demoed over the last couple of years."
Tuck adds that if the process was different, fans can expect the band to head for familiar sonic territory on Temper Temper , as the new release will be similar to their 2010 album, Fever .
"It's definitely got kind of the same feel and vibe as Fever ," he reveals. "Partly because where we want to go musically is [to] stray away from the metal a bit and just concentrate more on, kind of like, a hard rock, slamming kind of mid-tempo vibe, but have the metal influences still in there."
Copyright 2012 ABC News Radio