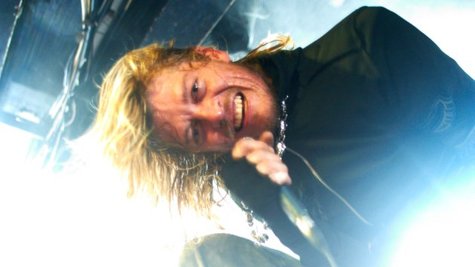 Puddle of Mudd singer Wes Scantlin is in trouble again. Scantlin was arrested at Bergstrom International Airport in Austin, Texas Tuesday after allegedly getting into a drunken argument with a flight attendant over his excessive drinking, E! News reports.
The Austin Police Department tells E! Scantlin was on board a JetBlue flight from Boston to Los Angeles when the plane was diverted to Austin.
E! quotes law enforcement officials as saying, "The flight was diverted to Austin due to Wes Scantlin, lead singer of Puddle of Mudd. Once the plane landed the officers did their investigation and deemed that the individual was intoxicated and was place under arrest for public intoxication."
A source further tells TMZ.com that Scantlin became upset on the flight because the flight crew refused to sell him booze.
Scantlin was later slapped with an additional charge of interference with a flight crew and booked into the Travis County Jail.
The singer pleaded guilty to felony cocaine possession in July, but was offered an opportunity to avoid jail by enrolling in a drug program by August 8. A Los Angeles judge issued a bench warrant for Scantlin after he failed to appear in court to show proof of his enrollment. The judge gave Scantlin a new court date of August 17. The current status of the bench warrant and his enrollment in the drug program is unclear.
Copyright 2012 ABC News Radio