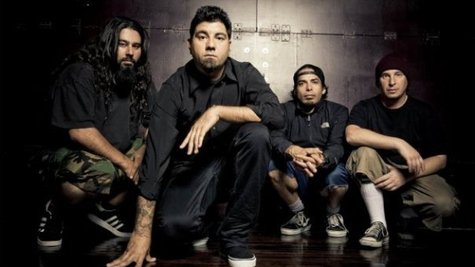 Deftones fans can expect the band to head for familiar territory on their upcoming seventh studio album, Koi No Yokan , due in stores on November 13. Frontman Chino Moreno says the band has refined their songwriting process so their new album will sound more like their earlier work.
"Our goal was to kind of rebuild what we created over all the years," Moreno tells Noisecreep . "We'd taken so much time between records, had some inner turmoil, and our records were starting to get pieced together versus really being created together, so for us it was a chance to get back to basics."
Moreno added that Chi Cheng -- the band's bassist who's still hospitalized in a minimally conscious state after receiving a critical head injury in a car accident in November of 2008 -- was always present in their thoughts during the recording sessions for Koi No Yokan .
"The whole band feels very strongly about him and he's always been a part of things," explains the singer. "The main thing we try to do is keep a positive attitude because it's not like he died -- it's more or less he's still alive and fighting and we all have hope -- that's the way we handle things."
Copyright 2012 ABC News Radio