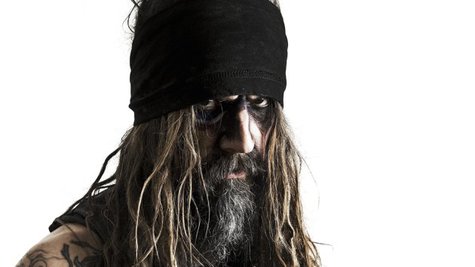 Rob Zombie 's new horror flick, The Lords of Salem , arrived in theaters over this past weekend. The movie centers around the demonic return of a 300-year-old coven of witches to modern-day Salem, Massachusetts. The singer/director says that he chose to make the flick because he was given total creative freedom for the project.
"This [movie] was an idea I came up with many years ago that I just filed away and forgot about," he tells ABC News Radio. "Then these producers came to me and said, 'We want to, you know, fund these more low-budget sort of supernatural-type movies,' and since they didn't have a lot of money, they basically said, 'You have complete freedom, one hundred percent of who you want to cast, what you want to do, just everything.' It was like, 'We are one hundred percent uninvolved.'"
The film features a score created by John 5 , the guitarist from Zombie's solo band. He chose John 5 to do the score because of the trust he developed in the guitarist over the course of their close working relationship. "I work with John so much, you know, non-stop for eight years, that I knew he would be able to do it, and I knew I would get what I wanted quickly because we wouldn't have a lot of time to go back and forth," he explains. "It was like he would almost have to get it perfect the first try. For the most part he could and that, it just was phenomenal."
In other Zombie news, the singer will release his fifth solo album, Venomous Rat Regeneration Vendor , on Tuesday.
Copyright 2013 ABC News Radio