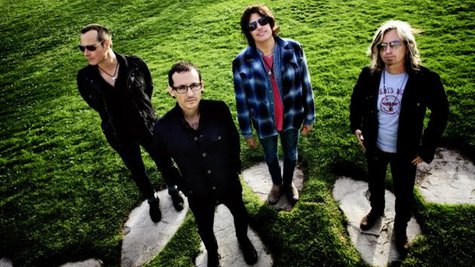 Stone Temple Pilots fans won't have to wait too much longer to get their hands on new music featuring frontman Chester Bennington . Guitarist Dean DeLeo has revealed that the group has completed work on a new EP that will hit stores this fall.
"We just finished up the EP," DeLeo tells ARTISTDirect . "I really do wish we were able to have the time to contribute an LP. With everybody's schedules and Chester having a huge responsibility to Linkin Park, we finished tracking everything on this one night."
A rep for STP tells ABC News Radio that the title of the EP will be High Rise , and that the release date will be revealed sometime next week.
DeLeo adds that despite the time crunch, the group was happy with the amount of new material they were able to record for High Rise . "Time was of the essence for this," he explains. "We did manage to eek [sic] out four new songs, and we will include "Out of Time" on the EP. We'll have a little five-song EP here, hopefully showing up in October."
You'll get your chance to hear the new cuts when STP hits the road for a North American tour next month. That outing kicks off on September 4 at the Sands Bethlehem Events Center in Bethlehem, PA. Filter will support the group on select dates. Visit StoneTemplePilots.com to view the full itinerary.
Copyright 2013 ABC News Radio