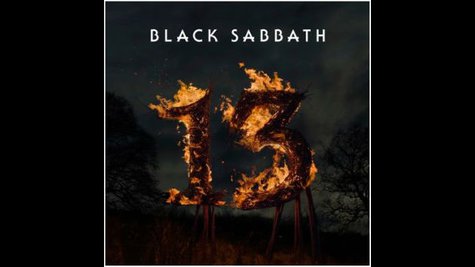 2013 turned out to be quite an eventful year for Black Sabbath . After plans for a major reunion tour in 2012 were shelved because of guitarist Tony Iommi 's cancer diagnosis and treatment, the heavy metal legends hit the road in a big way this year, albeit without founding drummer Bill Ward , who opted out of the group's reunion plans early last year because of disagreements over the contract he was offered.
Sabbath kicked things off with a late spring trek that took them to Australia, New Zealand and Japan. But the really big news came in June, when the band released their highly anticipated album, 13 , their first studio effort featuring founding singer Ozzy Osbourne since 1978's Never Say Die . The Rick Rubin -produced collection not only received critical acclaim but was also an overwhelming commercial success. It sold 155,000 copies in the U.S. during its debut week to become the first Black Sabbath album ever to top the Billboard 200 tally. 13 also jumped to #1 on the U.K. album chart, the band's first release to achieve that milestone since 1970's Paranoid .
Black Sabbath then mounted a U.S. tour that ran from late July until early September, followed by a Latin American leg in October and a European outing that began in late November and wound down with hometown concerts in Birmingham, England, on December 20 and 22.
Shortly before the band's European leg began, Osbourne, Iommi and bassist Geezer Butler attended U.K. magazine Classic Rock 's annual Roll of Honour Awards ceremony in London, where the group was presented with the prestigious Living Legend Award. Black Sabbath also took home two other trophies at the event, as 13 nabbed the Album of the Year prize and the band picked up the Event of the Year trophy for hitting #1 on the charts after 43 years.
November also saw the release of the Live…Gathered in Their Masses DVD, Blu-ray and CD, which feature performances from a pair of concerts Sabbath played in Melbourne, Australia, during the spring trek.
Meanwhile, Sabbath found out in December that they'll will be competing for three honors at the 2014 Grammy Awards ceremony in January. 13 is nominated in the Best Rock Album category, while one of its tracks, "God Is Dead?," received nods for Best Rock Song and Best Metal performance.
Copyright 2013 ABC News Radio