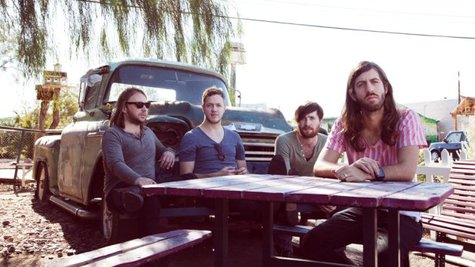 The members of Imagine Dragons know who they are as a band, and they're not going to change.
In an interview with the Australia music website FasterLouder , Imagine Dragons guitarist Wayne Sermon is asked about the group's arena rock sound. Sermon comments that it was inspired in part by the band's performances at small Las Vegas casinos in their early days.
Sermon says, "There's bikini blackjack dealers, there's slot machines, there's a million other things that people have to occupy their time. If we were gonna be asked to come back and play again we had to bring people in, we had to make them sit down and actually listen to music. In doing that, some delicacies get lost because you're trying to capture people."
Sermon also cites the fact that the guys in Imagine Dragons were influenced by other arena rock bands. He says, " U2 is not afraid to sound huge. Coldplay 's not afraid to sound huge. There's a lot of bands, Arcade Fire is probably the best example of a band that just sounds big and they don't care that they sound big. That's who they are; there's eight people on stage all banging different things. That arena sound excites us. We don't need to apologize for it."
Imagine Dragons has several North American dates lined up for the rest of the month, beginning in Boston on Wednesday.
Copyright 2013 ABC News Radio