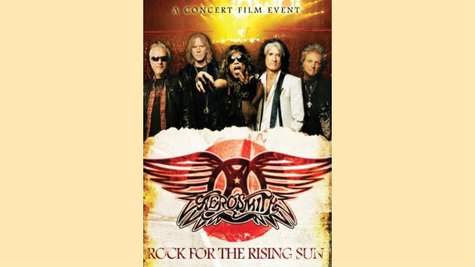 Aerosmith is sharing footage from their recently released live DVD, Rock for the Rising Sun . The group has just released a new video excerpt that features a performance of their 1975 hit " Sweet Emotion, " originally appearing on their third studio album, Toys in the Attic .
Rock for the Rising Sun was shot during Aerosmith's fall 2011 tour of Japan, which took place about a half-year after the devastating earthquake and tsunami that hit Japan and caused the meltdown of the Fukushima nuclear plant. Despite safety warnings, the band took their Back on the Road tour to the country, home to a plethora of passionate Aerosmith fans. In addition to the concert performances, the video also features behind-the-scenes segments and documentary footage showing the nation dealing with the disaster's aftermath.
Here is the list of songs Aerosmith performs in Rock for the Rising Sun :
"Draw the Line"
"Love in an Elevator"
"Livin' on the Edge"
"Hangman Jury"
"No More No More"
"Mama Kin"
"Monkey on My Back"
"Toys in the Attic"
"Sweet Emotion"
"Boogie Man"
"Rats in the Cellar"
"Movin' Out"
"Last Child"
"S.O.S. (Too Bad)"
"Walk This Way"
"Train Kept A Rollin'"
Copyright 2013 ABC News Radio