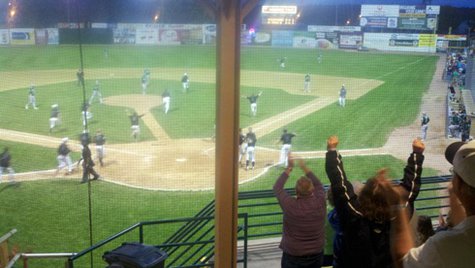 WAUSAU, WI (WRIG-WOODCHUCKS) - The Wisconsin Woodchucks would take an early 1-0 lead in the bottom of the first inning but a fifth inning run would be the difference as they were defeated by the Wisconsin Rapids Rafters 3-2. After Tyler Stieb reached base after being hit by a pitch, Woodchucks' second baseman would hit a double into the right center field gap to put both runners into scoring position. Woodchucks' newcomer Brady Roberson would hit a fly ball deep enough to left field to allow Stieb to score on the play giving the Woodchucks an early 1-0 lead.
A two-out single from Taylor Stell would begin the Rafters' rally. Stell would steal second base in the next at-bat and in that at-bat Donnie Dewees would beat out an infield single. A heads up play by Stell to never stop running would allow him to score all the way from second to tie the game up. Dewees would come in to score to give the Rafters a 2-1 lead as Zack Belanger would hit a base hit to right field.
The Woodchucks would even things up in the fourth inning as Matt Tellor would hit a home run to the deepest part of the field over the right-center field gap. It would be Tellor's fourth home run on the season. The Rafters would respond in their next at-bats in the top of the fifth inning as Dewees would drive in Stell again this time on a double off the left-center field wall giving the Rafters a 3-2 advantage which would be the difference in the ballgame.
Rafters' pitcher Brad Stroik would earn the victory as he would go seven innings surrendering just two runs while striking out five batters as he would improve to 2-0 on the season. Woodchucks' pitcher Anthony Dixon would receive the lost while pitching an outstanding game as he only surrendered three runs, walking none and striking out six as he would drop to 1-2 on the season.
UW-Stevens Point and WIAC Pitcher of the Year J.P. Feyerreisen would come on in the ninth and record his third save on the year as he keeps his season ERA at 0.00.
The Woodchucks will travel to Wisconsin Rapids Saturday night but return to Athletic Park on Sunday. Fans are encouraged to come out and treat Dad on his special day as well as enjoy the World Famous Zooperstars on Sunday. First pitch is scheduled for 5:05.