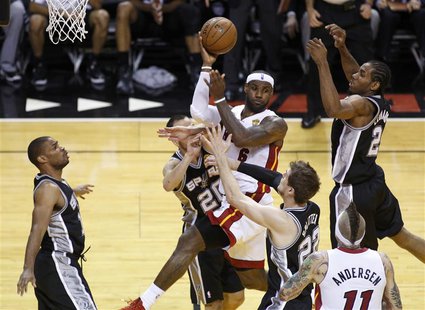 MIAMI (Reuters) - LeBron James scored 15 points as the Miami Heat snatched a 46-44 halftime lead over the San Antonio Spurs in Thursday's deciding Game Seven of the National Basketball Association (NBA) Finals.
James, the sport's best player, shot 5-of-11 from the floor, including 2-of-4 three-pointers, as Miami erased a seven-point first-quarter deficit to take the lead at the break.
Miami's Dwyane Wade had 14 points, including a 16-foot jumper in the last second of the half, while Shane Battier was 3-for-3 from behind the arc for the defending champions.
Tim Duncan scored 13 points for the visiting Spurs while Tony Parker had 10 in the winner-take-all clash.
San Antonio, chasing a fifth NBA title, were just seconds away from clinching the championship on Tuesday before Miami staged an extraordinary comeback to win in overtime and force a decisive seventh game.
Basketball fans in the United States have been whipped into a frenzy of excitement during a wildly fluctuating series full of escalating drama.
Courtside tickets for Thursday's game were selling on the secondary market for up to $30,000 and the first half lived up to the hype with both teams fiercely contesting every possession.
(Reporting by Julian Linden; Editing by Frank Pingue)