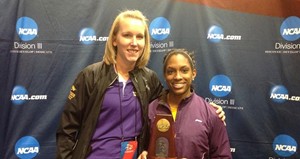 NAPERVILLE, Ill. (UWSP) - UW-Stevens Point junior Jasmine Haines (East Troy, WI/East Troy) ran her way to All-American status over the weekend, finishing seventh in the 400-meter dash.
Haines entered the championships seeded sixth in the event, posting a season-best time of 57.34.
In the preliminaries, Haines' time of 57.40 qualified her for the finals. In the finals, Haines posted a time of 57.96 was good for a seventh place finish, earning her All-American honors.
The finish collected the Pointers two team points, good for a 55th place finish at the 2013 championships.
Haines and the rest of the Pointers return to action on March 30 right back in Naperville, Ill., for the First Chance Meet, hosted by North Central College.