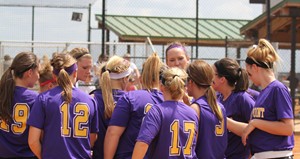 CLERMONT, Fla. (UWSP) – The UW-Stevens Point softball team moved to 12-2 on the season Monday, defeating Fontbonne 3-2 and falling to St. Benedict 9-4.
Sam Raddant (Shawano, WI/Shawano) drove in the go-ahead run to give UWSP the lead in the seventh inning as the Pointers hung on to beat Fontbonne 3-2.
With the game scoreless heading into the seventh inning Raddant came to the plated and roped a triple to right field, bringing home Alicia Hahnemann (Appleton, WI/West), Morgan Koth (Cedarburg, WI/Kettle Moraine Lutheran) and Katie Krueger (Plover, WI/SPASH). Fontbonne plated two runs in the bottom of the seventh but the Pointer defense was able to hold them off for the win. Raddant led the Pointers at the plate, going 2-for-3 with two RBI's. Kali Riddell (Bloomington, IL/University) went the distance in the circle, allowing two runs and striking out four.
In the second game of the day the Pointers late game charge came up short as they fell to St. Benedict 4-9. UWSP struck first in the bottom of the second inning when Katie Krueger (Plover, WI/SPASH) hit a sacrifice fly, scoring Paige Meulemans (Appleton, WI/Kimberly) from third. St. Benedict put together big innings in the third and sixth innings and took a 9-1 lead heading into the bottom of the seventh.
The Pointer bats game alive in the final frame, as Hahnemann, Morgan Koth (Cedarburg, WI/Kettle Moraine Lutheran), Raddant and Katie Shulfer (Stevens Point, WI/SPASH) all tallied extra base hits, plating a combined three runs. The late surge came up short as the Pointers were unable to overcome the deficit.
The loss snaps the Pointers 11 game win streak and marks their first loss of the trip. Meulemans and Krueger led the Pointers from the plate, each picking up two hits.