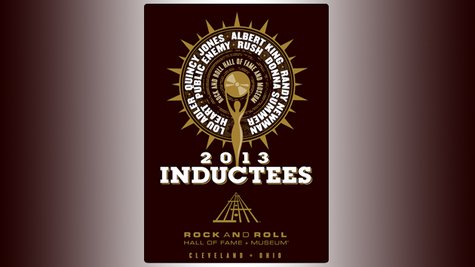 Rock and Roll history was made on April 18 in Los Angeles when Heart , Rush , Randy Newman , Public Enemy , late disco queen Donna Summer , late bluesman Albert King and producers Quincy Jones and Lou Adler were inducted into the Rock and Roll Hall of Fame. You can check out all of the highlights from the star-studded event by tuning in to HBO on Saturday at 9 p.m. ET/PT to catch the 2013 Rock and Roll Hall of Fame Induction Ceremony special.
The bash featured too many memorable moments to mention, but here are a number of highlights we've selected to whet your appetite in advance of the show:
-- Foo Fighters ' Dave Grohl and Taylor Hawkins and Rush producer Nick Raskulinecz hitting the stage dressed as 1970s-era Rush to perform the band's "Overture" from 2112 .
-- Rush themselves playing "Tom Sawyer" and "The Spirit of Radio."
-- Rush guitarist Alex Lifeson accepting his induction by delivering a speech consisting of the word "blah" repeated over and over again.
-- Heart performing their classic "Barracuda" with Alice in Chains ' Jerry Cantrell and Pearl Jam 's Mike McCready .
The 2013 Rock and Roll Hall of Fame Induction Ceremony will air repeatedly on HBO channels following its debut screening. It also will be available for a limited time via the HBO On Demand service. Visit HBO.com for more details.
Copyright 2013 ABC News Radio