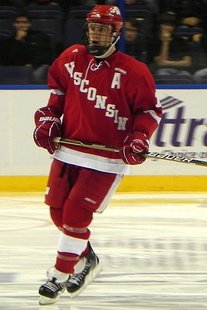 MADISON, Wis. (WSAU) - The UW Men's hockey team coasted to a 8-1 victory over Lake Superior State last night.
After slow starts earlier this year against Boston College and Boston University, the Badgers shot past the Lakers in the first period with a pair of goals. The Lakers got a quick goal just 16 seconds into the second period, but that's all the offense they would manage for the rest of the game.
It would be the Badgers game the rest of the night, as the men put 44 shots on the LSSU goal, with scores from 7 different players and points from 14. Goalkeeper Landon Peterson had his best night of the year for the Badgers, stopping 21 of 22 shots on goal and getting his first win since October 12.
The Badgers will be off next weekend with another bye before heading to Miami of Ohio November 15th.