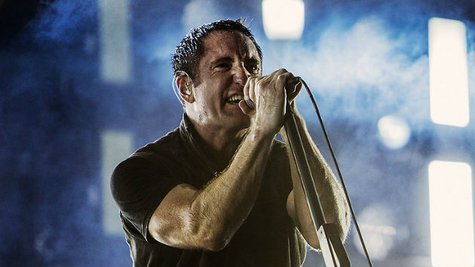 Trent Reznor took some time out during Nine Inch Nails ' concert in Las Vegas last weekend to show his support for a terminally ill fan. Before performing the show's encore, "In This Twilight," the singer engaged in a video-chat with Andrew Youssef , a photographer who was diagnosed with colon cancer in 2011, reports Rolling Stone .
During the FaceTime session, the singer wished Youssef well and told him that he'd call him after the show. Reznor also asked the crowd to say "hi" to Youssef, to which they responded with a rousing chant of "Andrew." Youssef was touched by the impromptu conversation, writing "I'm speechless" on Twitter shortly after the chat. Fan-filmed footage of Reznor talking with Youssef can be seen on YouTube .
Reznor first connected with Youssef over the summer after the photographer wrote a story about the band's performance at Outside Lands Festival in San Francisco. The NIN frontman then struck up a friendship with the ailing photog, inviting him to band rehearsals, a concert in Los Angeles and a few lunches.
Copyright 2013 ABC News Radio