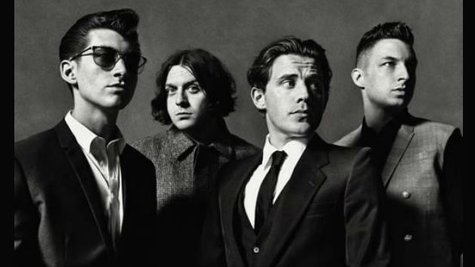 Arctic Monkeys ' AM has made a big splash across the Atlantic. The record debuted at the top of the U.K.'s Official Album Chart this week, with 157,000 copies sold.
Thanks to its successful first-week sales, AM is Arctic Monkeys' fifth consecutive studio album to score the top slot on the U.K. chart. It also makes the Monkeys the first independently-released band in British chart history to have five back-to-back #1 debuts.
In addition to debuting at #1 on the chart, AM is now the second fastest-selling album of the year so far. Daft Punk 's Random Access Memories currently holds the crown for the fastest-selling album of 2013, moving 165,000 copies its first week out.
AM is also expected to make a top-10 debut in the U.S. on the Billboard album chart, but it won't be in the #1 spot. According to Hits Daily Double , AM is likely to clock in at #6 on the tally, with projected sales to be between 35,000 and 40,000 copies.
The new Billboard 200 chart's top 10 will be released on Wednesday.
Copyright 2013 ABC News Radio